Thanks to
Ms. M
, I have my very own button!! I only have 22 followers now but maybe.... someday... I will have more! Here it is, if you'd like to grab it.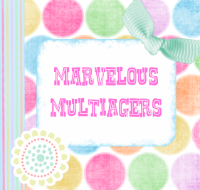 Also, thanks to
Kristen
, I figured out how to put other people's buttons on my sidebar!
Today, I got FIFTY-EIGHT new (to me) books for my classroom library! A local library had a used book sale, and the church where my mom works also had a used book sale. Between the two of us, we got all of these!
I guess you can't really see them all because I piled them... but I promise there are 58! I was so excited that my mom grabbed Froggy's Best Christmas for me - even if my students think Froggy is lame, I'll just read the books to myself, haha!
I also picked up 10 books yesterday at the Salvation Army for $1 - WOW!
Great day today. :)