This year I participated in
Caitlin
and
Sarah
's gift exchange, Holly Bloggy Christmas! It was super fun to send out a gift for another blogger and to receive one in the mail!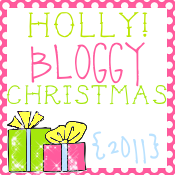 Andrea sent me a lovely array of gifts! If you're reading this, let me know if you have a blog so I can link to you!
I got... glittery J and D ornaments for my name, chocolate covered pretzels (not pictured because I devoured them, haha!), white fudge covered pretzels, Santa and reindeer window clings, a Target gift card, and a whole bunch of peppermint patties!!!!! My fave!!!



My other partner was Hilary at Rockin' Teacher Materials! I am not the most arty or crafty person, but I wanted to make sure Hilary's gift was special.

I made her a picture frame to go along with the theme of her blog! I also included some homemade cookies. :)

I got the idea for her picture frame with Scrabble tiles from my cousin's Etsy shop! She just opened up but she makes the cutest things! Click on her Alpha Gams frame to visit her shop and take a look around. :)
Thank, Caitlin and Sarah, for organizing this awesome exchange!!!!